Greensburg Auto Tag & Notary is a Auto Tag Agency, Messenger Service, Notary Public OPEN on Sundays. Call 724-216-5583 Today.
We are able to assist you with: Auto Title Transfers, Renew Auto Tags, Auto Registrations, Car Tags, Auto Tag Service, Intransit Tags, Vanity and Custom Car Plates.

We are Open Sundays & Some Holidays!

CALL 724-216-5583 TODAY

Greensburg Auto Tag & Notary is Available Everyday of the Week.

We Complete the Following:

* Auto Transfers
* Truck Transfers
* ATV Transfers
* Motorcycle Transfers
* Mobile Home Transfers
* Motor Home Transfers
* Trailer Transfers
* Instantly Renew Registrations
* INTRANSIT Tags
* Notarize Any Time Sensitive Document

When you Call Greensburg Auto Tag & Notary...We Answer!

Call 724 - 216 - 5583 Today.

We Take Pride in providing our customers with the Fast, Friendly, Professional Service they Deserve.

New Greensburg Location: 249 W. Pittsburgh Street, Greensburg, PA 15601
New Location: Coming Soon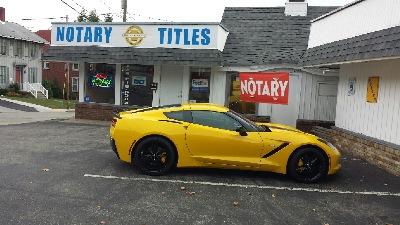 Winter
Weekday
Hours Monday - Friday: 9 AM - 6 PM Every Day Walk In



Winter
Weekend
Hours

Saturday: 9 AM - 5 PM Every Day Walk- In
Sunday: By Appointment Only With 1/2 Hour Notice

For your convenience, Greensburg Auto Tag & Notary is ALWAYS Open & Available.
Our coupon may be used every day of the week.

State & Service Fees Apply. All rights reserved © 2012 - 2015